MOOSE sound is a registered European brand, 100% developed and manufactured in Europe (Portugal). Being on the market for 25 years manufacturing Audio & Lighting professional equipment and taking advantage of all the experience and know how acquired over the years, we decided to push things further and develop a new professional audio products range – Moose Sound.
All Moose Sound products are developed and manufactured "in site", built and assembled with European components and parts exclusively offering its customers reliable, cost-effective systems featuring elegant design and rugged construction, truly providing "turnkey" solutions.
A thirst for innovation and changing the game has been our "raison d'être" from the word go four years ago, created on the principle of fearlessness, willing to "go the extra mile" to offer cost-effective European products, developed and assembled in Europe, helping our customers achieve their objectives.
Today is no different.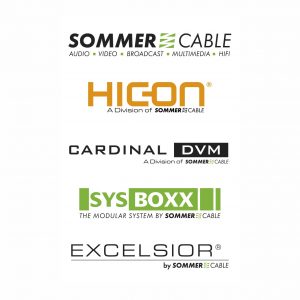 SOMMERCABLE Germany was founded in 1999 by classical musician and innovative entrepreneur Friedhelm Sommer and CEO/fellow musician Rainer Blanck.
Together with cable engineering leader Pascal Miguet, they built Sommer cable into a thriving development and manufacturing company with a catalog of over 12000 products for the A/V installation, pro-audio, broadcast, video, music, IT and HiFi market, with business partners in over 50 countries.
In 2015, SOMMERCABLE America Inc., a wholly owned subsidiary of SOMMERCABLE Germany, was established in Santa Rosa, CA by new CEO Martin Ucik. The company will supply the American markets with Sommers wide range of innovative and high quality cable, connector, stage, PA, hardware and Audio/Video installation and distribution products.